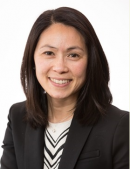 Wendy Chou has been a full-time gift planner for 15 years, the last four as Senior Philanthropic Advisor at the Oregon Community Foundation. In this role, she provides gift planning assistance to donors who are interested in supporting charitable initiatives throughout Oregon and serves as an internal technical consultant to all philanthropic advisors throughout the state. 
Wendy was previously the Interim VP of Development and Director of Planned Giving at Silicon Valley Community Foundation. Prior to working in the community foundation field, she held positions in higher education fundraising at Boston College and Santa Clara University and served as a Relationship Manager at Kaspick & Company.
Wendy currently serves on the board of the Northwest Planned Giving Roundtable. She is also a past board member of the Planned Giving Group of New England and the Partnership for Philanthropic Planning (now the National Association of Charitable Gift Planners).
Wendy is a native of New Jersey and a graduate of Tufts University and Santa Clara University School of Law.
Title:
Senior Philanthropic Advisor
Organization:
Oregon Community Foundation