Extend Your Reach Digitally
Email marketing isn't something the planned giving marketers do just because it's popular. It is attractive due to the channel's familiarity, flexibility, and universality. Email allows you to build relationships with donors and educate them on planned giving without spending excessively on direct mail printing and postage. Email marketing campaigns can take many forms and at PG Calc we can help you with all of them.
E-Newsletters
Every e-newsletter has a distinct theme focused around a donor story, which is then paired with relevant planned giving articles. This focus allows for increased understanding and comprehension. Each e-newsletter is customized to the look and feel of the charity, and design best practices are applied to achieve objectives. We create the design, layout, and content made to order (HTML) in your brand. Our goal is to make every e-newsletter a "good read."
Single Issue Emails
Several times per year you may want to send your donors email on a particular topic such as an IRA Charitable Rollover. Planned giving email directing donors to your website is great awareness building and will update donors about new issues in planned giving. Well crafted email allows your donors to not only begin to see planned giving as a viable option to support your mission, but they may also come to see you as a trusted friend. We create the design, layout, and content made to order (HTML) in your brand.
Direct Mail Follow-up
Direct mail is still a trusted and reliable tool in a marketing strategy. However, many planned giving marketers are incorporating an integrated approach by using email to support all direct mail campaigns. The email can reference the message you provided in the direct mail piece, provide additional follow-up information, and include a link to a landing page. By sending a consistent message using two different mediums to touch your donors, you can have a dramatic affect on the success of the campaign. We create the design, layout, and content made to order (HTML) in your brand.
Email Features
Personal
Targeted
Trust Building
Cost Effective
Measurable
Educational
---
Our Work - eNewsletters
Bryn Mawr College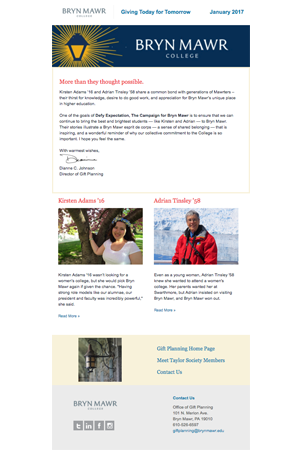 Eden Autism

Carnegie Mellon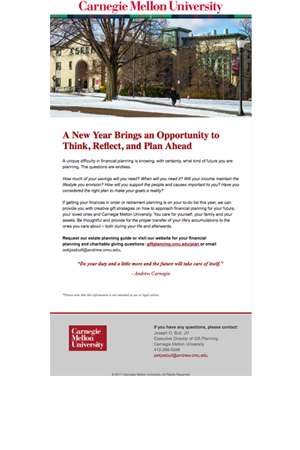 ---
What It's Like to Work With Us
We collaborate with you to create a custom digital email strategy that best achieves your marketing objectives. We spend the extra time to make each piece eyecatching and relevant because we've found that's what works. Your emails and eNewsletters will be well-written, personal, and a benefit to your donors, building relationships faster and cheaper than anything else.    
Collaboration
To get started, we discuss the strategic goals and objectives of the email campaign. This includes format, theme and scheduling.
Design and Review
We'll create the design, layout and content with relevant landing pages and an agreed upon call to action. After our testing process, you step in for review and any necessary revision. 
Send and Reporting
We deliver the final HTML code so you can cut, paste, and send. If need be, we can send your email and report results. It's a hassle-free experience.
---