Leave a Lasting Impression
A brochure is a perfect medium to provide an overview of any subject matter. It can convey your chosen planned giving message and the impact a gift will have to your mission. A print brochure is easy to share and leaves a lasting impression.
Custom & Mission Focused
For use as fulfillment pieces, donor visit leave behinds, or event handouts, our brochures are customized to the look and feel of the charity and design best practices are applied to achieve your objectives. We create the design, layout, and content made to order in your brand. We never use canned content and they are always presented in context with your mission.
You Name It, We Write It
We can do a brochure on any subject. Here is a list of some of the more popular ones:
Legacy Giving
Bequests
Beneficiary Designations
Charitable Gift Annuity
Charitable Remainder Trust
Pooled Income Fund
Gifts of Retirement Assets
Gifts of Life Insurance
Gifts of Real Estate
Tax-Wise Giving
If you don't see what you are looking for here, just ask. We write each brochure independently incorporating your messaging, mission and voice. Every word can be edited.
  Brochure Features
Custom Design
Easy to Share
Mission Focused
Individually Written
---
Our Work - Brochures
Tri-Fold w/Reply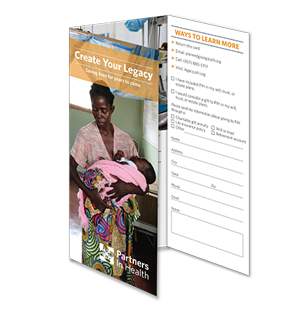 Booklet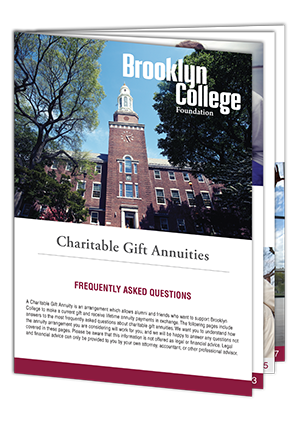 Tri-Fold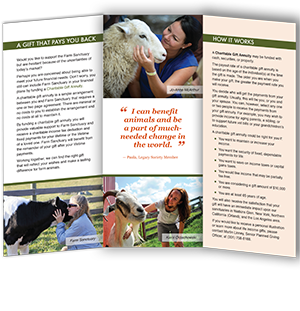 ---
What It's Like To Work With Us
We collaborate with you and your team to create a custom brochure based on any planned giving subject matter. 
Collaboration
To get started, we discuss the strategic goals and objectives of the campaign. This includes format, theme, and scheduling.
Design and Review
We'll create the design, layout, and content, including relevant landing pages and call to action. Then, you step in for review and any necessary revision.
Print Ready Files
After your final approval, we will deliver the press quality files for you to provide your printer. It's a hassle-free experience.
---