PG Calc's Why Is PG Calc Like a Unicorn Contest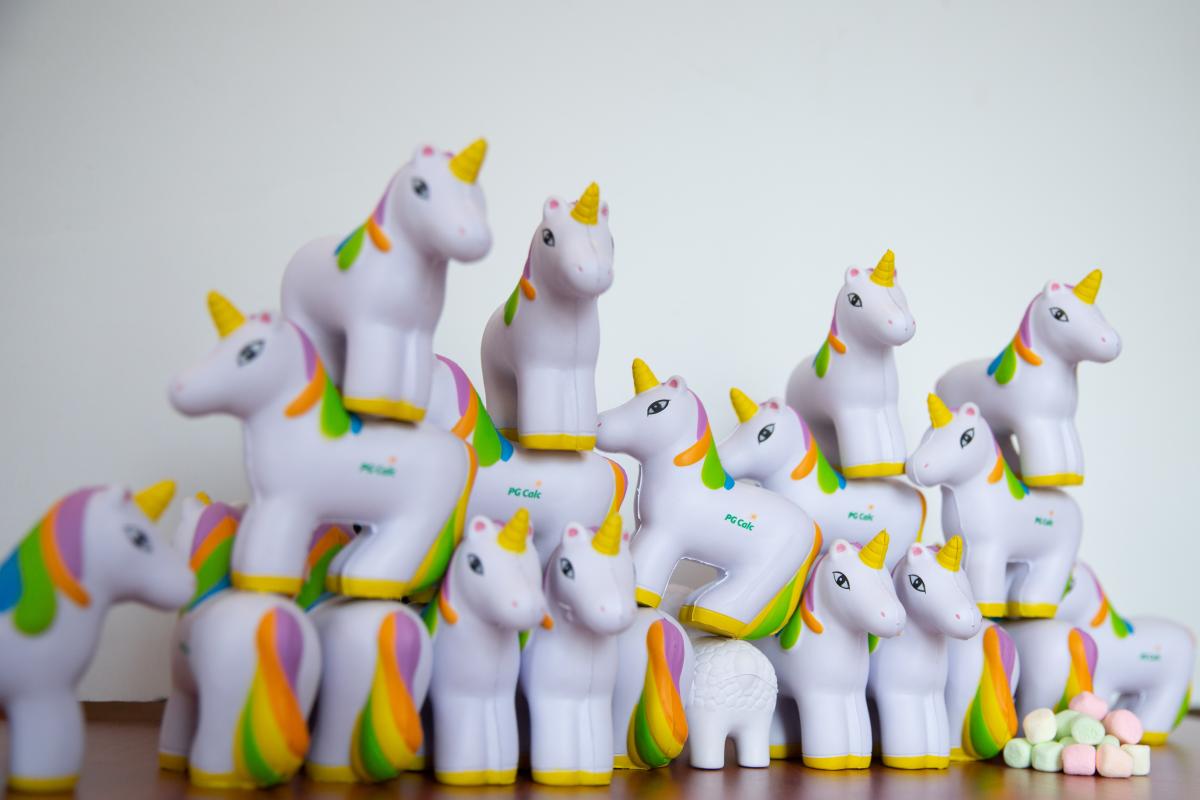 PG Calc is asking our customers and friends this question -
Why is PG Calc like a unicorn?  
We are running a contest for all PG Calc customers and friends, and you can participate! All you have to do is visit us at one of our upcoming conferences, or attend PG Calc training, and pick up your PG Calc unicorn. Then, figure out the most clever way to describe why you think PG Calc is like a unicorn.  Your description can be in words, memes, pictures, or a combination!
You can then submit your description to enter the contest. The contestant with the most interesting, unusual, and engaging concept will win our prize!  
So, don't wait.  Get your PG Calc unicorn and start your unicorn adventure!
Why  Is PG Calc Like a Unicorn? Contest Rules
Time period: From now until Labor Day.  We will send reminders throughout the summer.
What you have to do to enter: Send your words, photo, or meme creatively demonstrating why PG Calc is like a unicorn to info@pgcalc.com.
What we are doing with the unicorns?:  Entries submitted will be displayed prominently on this page.  If you're willing, we will also name you and your organization.
Judging: Entries will be judged on their creativity.
What you can win: A free year of Planned Giving Manager (PGM) service for your organization (a $695 value). If you're using our Marketing Services and are already getting free PGM, we'll take another $695 off your Marketing Services fee!
Here are our entries:
1

PG Calc is a unicorn in a field of horses!

Submitted by: Jonathan DiRusso

Cambridge, MA

Organization: PG Calc

2

PGCalc: A team of professional unicorns who bring magic to your planned giving program!

Submitted by: Eve B. Forbes

Hamden, CT

Organization: Quinnipiac University

---

3

While unicorns have been popularized as cute and fanciful figures, Greek legend presents them as powerful beasts with horns that render poisonous water safe for drinking.  Early gift annuity administration was often "Greek" to me, but now, with PG Calc's help, our organization drinks deeply from healthy pools of our supporters' goodness.

     The powerful and wise Asian unicorn is a creature which becomes tame in the hands of a fair lady.  Anyone who has called upon Edie, Ann or Tina can relate to that!

     During the French Renaissance, unicorns were the emblem of a faithful marriage… an apt description of the trust we have and hold in the PG Calc staff.

     And in South Vietnam, sacred unicorns bring gifts to children in unicorn "dress" at mid-autumn festivals, guaranteeing peace and wealth for the land. Our PG Calc-supported gift annuity program yields supporters' gifts in the harvest seasons of their lives, continuing our work for a more just world through their bounty.

     But, most of all, PG Calc is like a unicorn because to know them is to love them!

Submitted by: Patricia A. Thornton

Montgomery, AL

Organization: Southern Poverty Law Center
4


Submitted by: Joni Ukegawa

Newport Beach, CA

Organization: Hoag Hospital Foundation
---